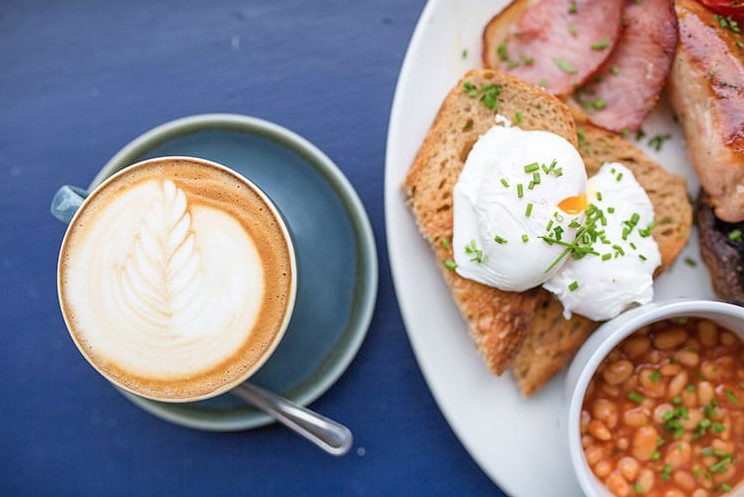 Experiencing brunch in Manchester is something that everyone here should indulge in, whether you're a local or a passing tourist. Brunch is the delightful combination of the two best meals of the day but is much more exciting that breakfast and much fancier than lunch. Served anytime from 10 am, there's usually eggs on the menu and the option to accompany your dish with alcohol in some form. So, with that in mind, here are the best places to eat in Manchester that serve brunch.
The Koffee Pot
Famous for its (allegedly) hangover curing breakfasts and 241 cocktails, The Koffee Pot is a must-visit if you're looking for a brunch location. Favourites here include smoked haddock on sourdough toast with a side of soft poached eggs and tabasco tomatoes and the KP Full English. Visiting here for brunch is similar to getting a comforting hug. Brunch is served daily.
Moose Coffee
This Canadian influenced cafe sits on York Street and offers 25 different brunch time dishes. There seven options for eggs benedict alone! The New Brunswick Eggs Benedict is a popular Moose Coffee dish and comes with two poached eggs on a toasted bagel, served with slow-cooked beef brisket, potato hash and homemade Moose hollandaise sauce – it's a winning combination! The drinks menu here is rather extensive, and with treats such as Peanut Butter and Chocolate milkshake, you're sure to want to try everything.
Mackie Mayor
Mackie Mayor is the place to visit if you're the indecisive type or are visiting with a group of friends. There's such a wide range of incredible food on offer and all of Mackie Mayor's offerings focus on using well-sourced quality ingredients. Try a little something from a few vendors if you're feeling up to it.
Brewski
If you're feeling particularly hungry, then Brewski offer an absolutely huge brunch offering with their brunch sharing board. This mammoth offering has the same amount of food as six separate breakfasts, with the serving board including fennel sausages, mushrooms, poached eggs, black pudding, maple syrup pancakes and even two flat iron steaks. If you have a much more toned down appetite, then the normal brunch menu includes buttermilk pancakes, french toasts and fry-ups.
Albert's Schloss
If you're looking for a sweet start to the day, then Albert Schloss' resident Cruffins or Cronuts are the best options. Made fresh in their in-house bakery, these are a treat not to be missed. But, if you're looking for a healthier start to the day, then their super grain bowl is a great idea. With poached eggs, mixed grains, avocado and pickled carrot.
Common
Common offers one of the best versions of the Instagram favourite – smashed avocado on toast. With bloomers made fresh in the basement, if you're looking for a place with simple and unfussy options, then this is the place for you. If you still fancy a fry-up, then ask for the Stephen Fry – it's their biggest full English option.
Alabama's
As well as the classic fry-up, brunch dishes at Alabama's include omelettes with ham hock, spinach and pesto and crab cakes. For those with a sweeter tooth, you can choose from the stacks of buttermilk pancakes, french toast topped with berries and banoffee, or vanilla waffles with bacon and maple syrup. The cocktail list here is themed around brunch, so trying one during your visit is a must – check out the breakfast martini or mimosa for a treat!